Best Drones for the New Age of Pilots, 6-14
As an avid RC enthusiast a large portion of my life,its been amazing seeing the technology adavnce.
Mini and micro drones are at a new point in their development. Although stiemied by the recent FAA regulations and requirements around air restrictions, there are still amazing opportunities for drone use. Registering isn't that big of a deal, but incase it isn't something you want to do, check out my list of highly recommended micro drones below.
Today we're going to review the three best drones.
1. Ryze Tech Tello
The Ryze Tello is the product of an alliance between
leading consumer drone producer DJI and fellow Chinese start-up Ryze.
It's a simple, lightweight and inexpensive quadcopter,
specifically pitched to the hobby by beginners.
It comes with an onboard nose-mounted camera capable of capturing
5MP images and broadcasting 720p HD video, despite its budget-friendly price.
You also get a reasonable-sounding 13 minutes of flight time per fully charged battery and stability sensors to prevent it from wandering off into walls, shrubberies and gardens of neighbors (theoretically, at least).
In other words, to keep prices down, it has not been stripped right down to the bone. Even the plastic body looks solid, but we wouldn't call it premium by any stretch.
2. SIMREX X300C
It measures just 11.5 * 11.5 * 3.3 cm in its extended shape and its overall structure is very solid, it's not among those inexpensive toys that would break up quickly if you crash it. However, if you crash the drone now and again, it does come with propeller guards that I strongly suggest you mount to the drone to mitigate any harm that can occur.
The power button is on the top of the drone and it is a small 750 mAh LiPo battery that gives the drone a flight time of around 7-10 minutes, which is almost normal for a toy drone.
3. Holy Stone HS350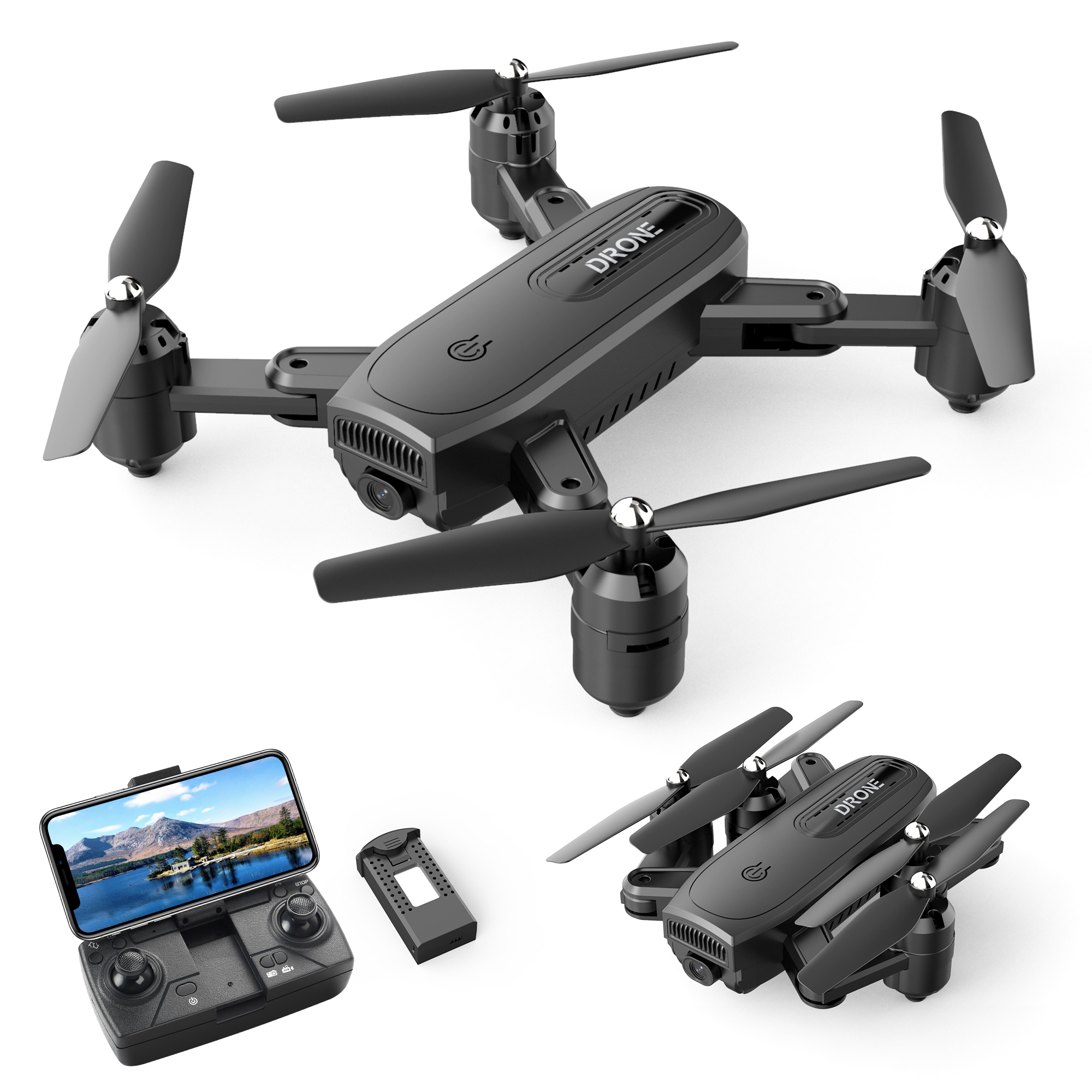 Due to the fact it is made from high-quality plastics (most components), this unit has a weight of just 1.1 pounds, but the dimensions are 16 x 8 x 3.2 inches. Thanks to these specs, it is capable of providing amazing flying capabilities, so flying this quadcopter is a real pleasure.
The flying time is 8 minutes, which isn't much, but it is better than most models from this price range have to offer. A better thing is with the battery, simply because it requires just 1.2 hours to recharge. The manufacturer recommends cooling down the quadcopter after each flight, in order to maintain all components in a great condition.
And some may ask why there is no DJI on the list. Well, except for the first one, but its so small it barely counts.
While they are the leaders, I wante dto give very affordable options for parents, families, or people just getting into this hobby. Its a lot of fun, and crashing can be a bummer – especially when you are just starting.
Use one of these drones and you'll be set! Click on the links above to support the site.